IRDA Regulation relating to Insurance Products Approval
An insurance company cannot launch any product unless the product specifications are filed with IRDA and are approved by them. This procedure is popularly called "file and use" procedure under the IRDA Regulations. This procedure is required to be followed whenever a new product is launched or whenever an existing product is withdrawn or modified. IRDA have recently issued the following two Regulations, subsuming all the existing notifications with reference to Product design:
(a) IRDA (Non-Linked Insurance Products) Regulations, 2013
(b) IRDA (Linked Insurance Products) Regulations, 2013
A linked life insurance product is one which combines the benefit of insurance coverage and investment in one product. Under this type of product, the balance amount available after appropriation of charges, including the mortality charges, in invested in market linked investments. For example, investment in listed equities or bonds. The Policyholder, in addition to providing the fundamental risk coverage, a linked insurance product also provides an investment management service and the value of investment is reflected in the form of Net asset value from time to time. The risk on the investment portion lies with the Policyholders.
A non-linked life insurance product, on the other hand, does not provide the investment management service on behalf of the policyholders. Typically, the following are the benefits under a non-linked insurance product:
(a) Covers risk of mortality – i.e. risk of dying early – provides sum assured on death, e.g. Term insurance policies or whole life insurance policies which provide sum assured only on death.
(b) sum assured which can be provided on survival to the maturity of the policy, e.g. Endowment Policies which provide for sum assured on death or on maturity whichever is earlier.
(c) Annuity contracts, which covers the risk of living longer, by providing periodic payments as long as the policyholder is alive.
(d) Health insurance contracts, which cover the risk of hospitalization (General insurance companies also offer health insurance contracts on indemnity basis).
(e) Rider benefits e.g. Accident Death Benefit rider (where an additional sum assured is paid on death due to accident).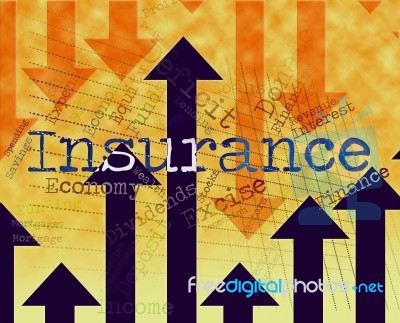 [Post Image Courtesy of Stuart Miles at FreeDigitalPhotos.net]
Regulations on non-linked insurance products
These regulations cover various aspects of non-linked insurance products. Life insurance companies are required to ensure compliance with these regulations before 31st July 2013 for group products and before 30 September 2013 for individual products. The significant regulatory changes in relation to non-linked insurance products include:
1. Minimum floors on sums assured have been introduced for single and regular premium products depending on the age of the insured.
2. For individual products, the minimum policy term and the minimum premium term (for non-single premium policies) have both been set at five years.
3. Maximum commission (or remuneration to distributors in any form) limits have been introduced for all non-linked insurance products. The key changes include:
(a) The first year commission (FYC) limits for non-pension regular premium products with premium terms lower than 12 years have been reduced from the current limits. The limits on maximum commission increase with premium term, although the highest limit is the same as that currently permitted.
(b) The maximum distributor remuneration for group products is set at 2% of premium, subject to absolute INR-denominated caps.
(c) No commission payment is permitted on business procured through the direct marketing channel.
(d) Minimum guaranteed surrender values have been introduced at different policy durations. These levels are higher than the existing minimum guaranteed surrender value requirements.
Companies are also required to pay 'special surrender values' based on asset shares underlying the policies. These asset shares are required to be calculated in accordance with the professional guidance provided by the Institute of Actuaries of India.
(e) 'Variable insurance products,' which have been defined as any non-linked products for which benefits depend upon regular interest rate credits, are now subjected to the same regulations as those applicable to unit-linked products.
(f) Benefit illustrations are now required to be presented assuming gross investment returns of 4% p.a. and 8% p.a. The regulations also require illustrations to be provided based on the rates specified by IRDA or the Life Insurance Council (which are currently at 6% p.a. and 10% p.a.)
(g) Significant regulations are introduced around the management of participating business, covering the need to set up an asset share framework; a governance mechanism involving a 'with-profits committee' which would include an independent director of the Board, the CEO, Appointed Actuary and an independent actuary; and the granting of power to the IRDA to prescribe methodology to allocate expenses between different funds. The new regulations appear to be an attempt by the IRDA to improve the level of transparency and value for money for policyholders of non-linked life insurance products.
Regulations on linked insurance products
These regulations are largely in line with the earlier unit-linked guidelines released by the IRDA in September 2010. They split linked insurance products into unit-linked products and variable-linked products and provide regulations for each of them separately. As with non linked products, life insurance companies are required to ensure compliance with these regulations before 31st July 2013 for group products and before 30 September 2013 for individual products.
The key changes in these regulations as compared with the previously released unit-linked guidelines include the following:
(a) Maximum commission (or remuneration to distributors in any form) limits have been introduced in line with those now applicable under the new non-linked product regulations.
(b) Companies are now not allowed to offer the so-called 'highest NAV guaranteed' products and any closed ended funds. However, companies can provide guarantees at a product level (as opposed to a fund level) even at maturity.
(c) The regulations now require companies to provide comprehensive information to IRDA in respect of the guarantee charges levied on the products offering investment guarantees.
(d) Benefit illustrations are now also required to be presented using investment returns of 4% p.a and 8% p.a.
(e) There are no changes to the maximum reduction in yield to policyholder at maturity as prescribed by the IRDA in earlier guidelines. However, insurance companies are required to demonstrate compliance with these requirements using six different gross investment return assumptions at the time of filing of the product.
Insurance Law And Practice - ICSI
IRDA Regulation relating to Insurance Products Approval
Reviewed by
Blog Editor
on
Tuesday, May 16, 2017
Rating: